View All
Tracking livestock movement around Australia
Australian meat has a trusted reputation on world markets, and a large part of that is thanks to national integrity systems. The National Livestock Identification System (NLIS) ensures the traceability of all Australian livestock all the way back to the farm through every point the animal has visited, from sale yards to stock agents and ports.
View the tool in action below (created using simulated data)
There's security in this data - it can stop the spread of diseases and ensure product integrity across the entire industry. There's also a lot of untapped value, for gaining insight into patterns of animal movement around the country, day-to-day reporting, presentations and publicity. Meat producers, industry partners, state authorities, Meat & Livestock Australia and many more stakeholders stood to benefit from better visualisations of NLIS data.
Our job was to present this data in the most understandable, attractive form possible. This included visualising the movements themselves, their volume, and the need to filter by origin and destination (e.g. producer to saleyard), animal type and time period, as well as being able to see both a national overview and local details.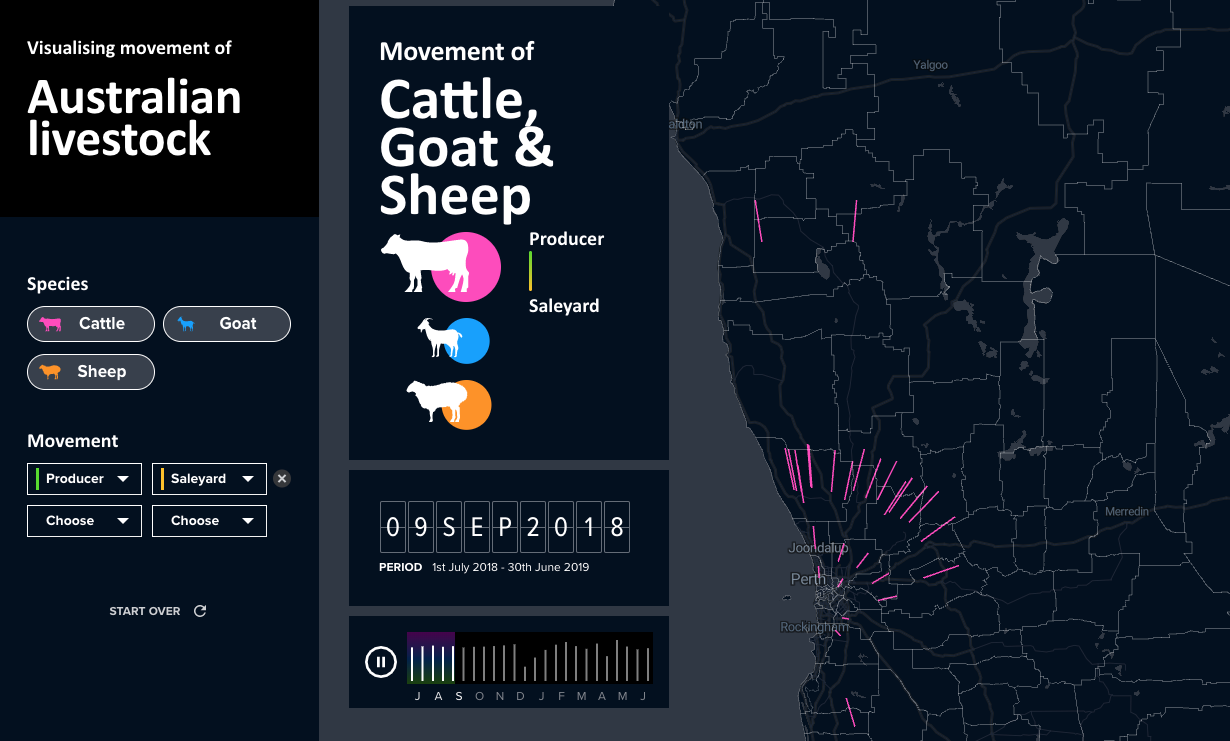 The visualisation of animal movement surfaced data insights that weren't apparent when viewed in table format, such as patterns of movement at certain times of the year (like Christmas), or particular concentrations of movement. Data is a very important asset for Meat & Livestock Australia, with implications for efficiency and quality of service. This visualisation is an important step towards gaining the maximum value from existing animal movement data. We believe that data vis and agritech have a bright future together, and we're looking forward to working with people on data-driven farming projects to meet global food demand.